BENEFITS OF USING POWERWARE AUTOMATIC VOLTAGE STABILIZERS :
---
Powerware automatic voltage stabilizer is a distortion less, servo controlled stabilizer manufactured upto 2500 KVA capacity. It works on the principle of sine waves superim position. It bucks or boosts the incoming voltage by superim posing a variable voltage having the same wave form.
Its superior features not only help you to conserve energy but also avoid detrimental effects of over voltage, under voltage and unbalanced voltage on your costly electrical equipments as well as finished products.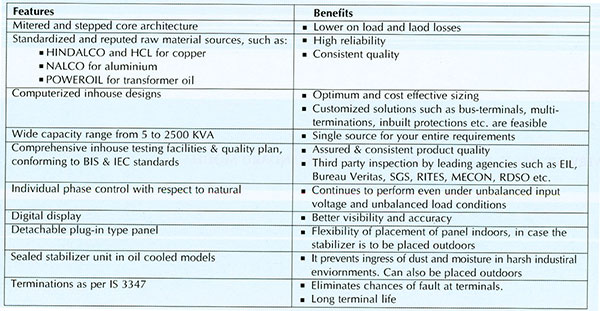 POWERWARE with its customer centric approach and continuous R & D has brought about sa revolution with the launch of Powerware EEZ.
Powerware EEZ is a Modulated Wave stabilizer based on state of the art Pulse Width Modulation (PWM) technology using latest generation IGBT semiconductors, which manintains constant output voltage for an easy and comfortable ride, even during severe voltage fluctuations.
Power fluctuation causes motor ineffieiency, overheating and burning of mortors, high consumption in lighting loads, failure of bulbs, chokes and electronic equipment, manlfunctioning of CNC machines and computer loads.
Powerware EEZ senses the fluctuations in the input voltage on real time basis. Instantaneously the IGBT, with a switching time of less than 0.5 micro secs, generates a PWM sine wave of exact magnitude required to be added to / subtracted from the line voltage and feeds it to the primary of a series buck/ boost transformer. The buck/ boost transformer superimposes this sinewave to the line voltage, without my waveform distortion, to provide a constant and smooth output voltage.
Powerware EEZ is housed in an indoor enclosure with following inbuilt protections:
- Temperature cutoff - Surge Suppressor - Fault bypass (Input=Output)
- Overload cutoff - High Voltage cut off - Low Voltage cut off
Powerware EEZ works best with properly earthed neutral. In case of a floating neutral, it is strongly recommended that the neutral be grounded to minimize the float. Alternately an Isolation transformer may be installed.